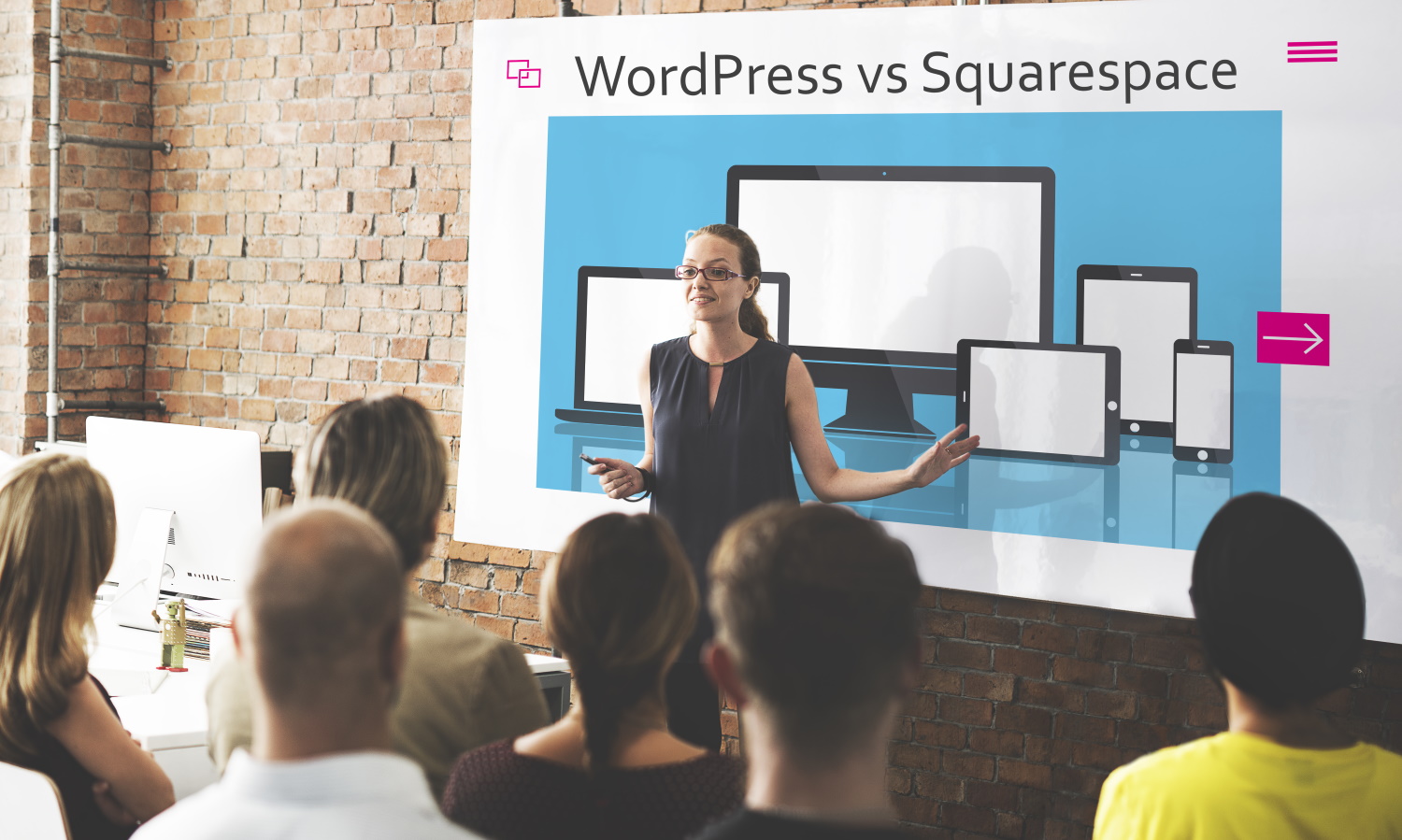 The two main players for building websites using a content management system are WordPress and Squarespace. While they are both loved and used by millions of individuals and businesses, it can be hard to know which will be the best option for your needs. Today we're going to take a look at the pros and cons of both WordPress and Squarespace to help you decide which one to select for your website.
What is WordPress?
WordPress offers users two different options when it comes to their website project: hosted and self-hosted. The hosted WordPress option is very similar to that of Squarespace and is a software as a service solution to help you build your new website. You'll pay a monthly fee for this service for a wide range of features, but there's also a free option available if you are happy for ads to be shown on your website. From there, you can add e-commerce features and choose themes for your site as you would with any website content management system.
The self-hosted WordPress option requires you to download a piece of software from their site, which will then need installing onto your web hosting server. This offers your website developer more flexibility to build and create any design you desire. Around 20% of websites today are built with WordPress, this means there is a wealth of information online to support the creation of your website.
What is Squarespace?
Squarespace was launched in 2004 and is a software as a service, drag and drop content management system. You'll have to pay a monthly fee to use this service, and it provides tools that enable your website designer to develop efficiently.
Squarespace offers templates, hosting, a content management system and aims to be a code-free solution. It's a good option if you are happy with a simple design and layout for your site. However, if you are looking for a more complex site with a wide selection of features, it may not be the best option for you.
WordPress vs Squarespace
To help you decide which is the best option for your needs, let's look at some of the most crucial considerations when deciding which content management system to choose.
Website design
When it comes to the design and aesthetic of your website, it's crucial to find a content management system that will help in creating a professional site to showcase your company's offerings. For the choice of designs on offer, we think WordPress offers greater creative control. WordPress offers designers thousands of themes to choose from, allowing your web developer to create a unique site that's like nothing else on the internet today. As WordPress, can be coded your developer will have full control over your site. For companies who are looking for something a little more straightforward and need rapid development, Squarespace is a good option when you just require a basic website or blog.
Ease of use
Both WordPress and Squarespace are very easy to use by office staff once completed by your web company. WordPress allows anyone with coding knowledge to create a more complex site. This is in contrast to Squarespace which takes the drag and drop approach for editing. You can use WordPress to create a basic site or something more complex, and this will be dependent on your knowledge or abilities. You'll find most website developers today use WordPress, so if you are taking this route for your next project, you'll find they can create a fully customised site for your company.
Range of tools on offer
When commissioning your site creation, keep in mind the various features you want to add to your site. The more you can offer your customers, the more satisfied they'll be with your services. WordPress has a good range of features already built-in. You can then ask your developer to add further plugins to fulfill more complex features or to upgrade your site. Squarespace also has features built-in, but you'll find there are limited choices in the app store to use with it.
Plugins
If plugins are a high priority when choosing a content management system, WordPress is definitely the way to go. WordPress has an incredible 55,000 plugins to choose from, and these can be installed and updated as desired. Squarespace also has apps built-in, but you'll find they are not anywhere near as many available as there are for WordPress. The choices available on WordPress make it the more desirable option when considering plugin functionality as there is an abundance of different plugins which means your developer can expand your site to do anything you could possibly imagine.
E-Commerce stores
One of the most popular types of websites is e-commerce stores. If you wish to open an online store, you'll generally find that WordPress is the top option. One of the big downsides of Squarespace is its' limited payment options which will naturally limit your customer base. WordPress also allows for e-commerce store customisation, so you can have a powerful and robust store for your business.
WordPress and Squarespace are both excellent tools for businesses today looking to quickly and easily set up a website. In general, we find WordPress to be the better of the two tools. This is because it offers a greater range of plugins and customisation for your next project.
BSPOKE Designs development team use WordPress on a daily basis. They'll be able to help you add all of the features you need for your company's site, so call or email us, today!