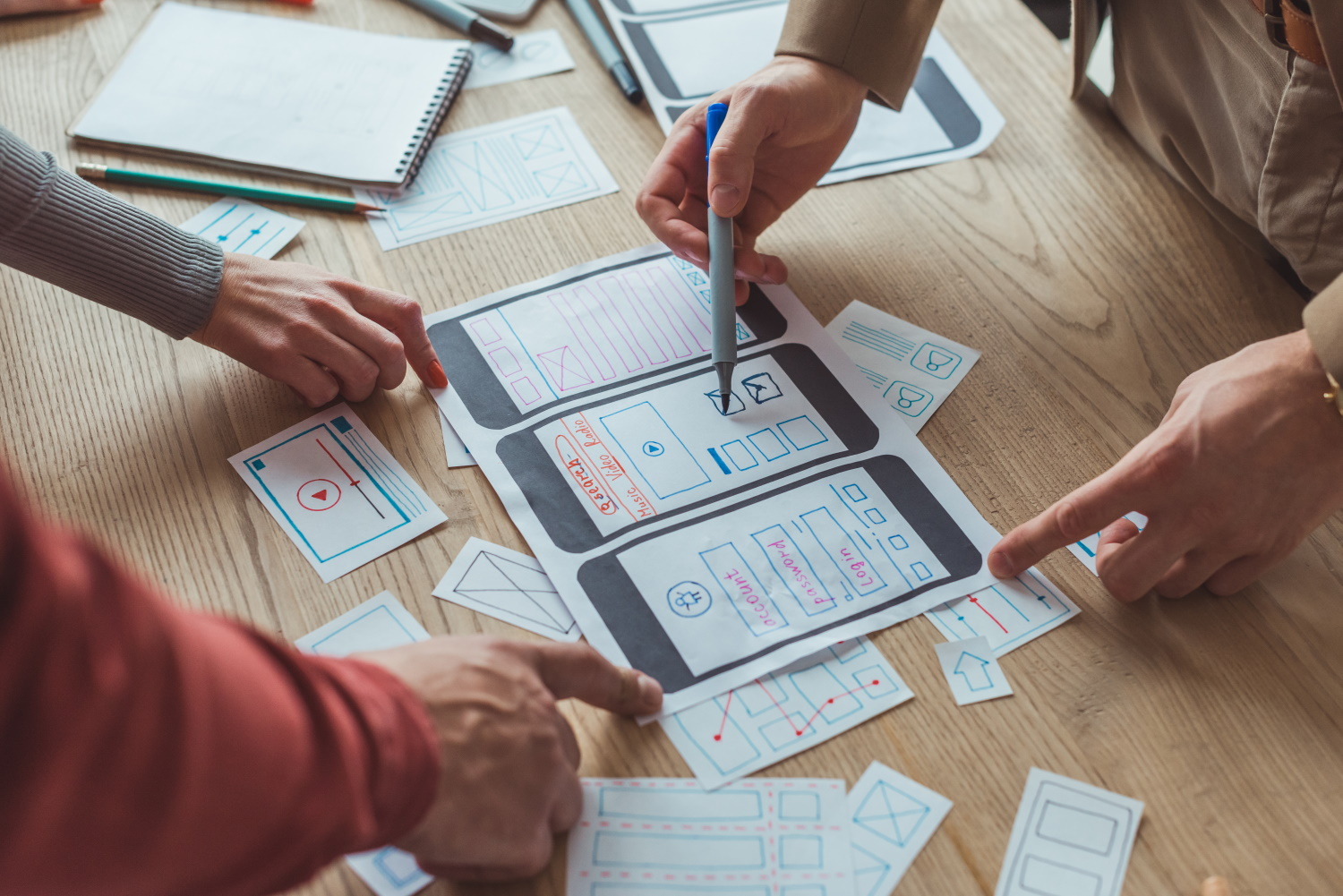 If you have a fantastic idea for an app and your not a software developer, you're probably wondering where to start its production journey, we suggest you start with a prototype. While many people have an idea in their head, of what their app should look like and how it should function, it's sometimes much more challenging to make that idea a reality.
If you don't have the funds to employ someone to create a prototype, there are some other ways to do it without spending a penny. Here, in this blog post, we'll take a look at the best ways to showcase your new idea, when you don't have the skills or knowledge to design a comprehensive prototype yourself.
The easiest prototyping option – pencil and paper
While most prototypes today are created using technology, don't overlook a simple pen and paper option. If you have ideas in mind for your new app but don't have the skills to put it onto your computer, just grab a piece of paper and a pencil and start sketching ideas.
You can keep erasing any mistakes or ideas you'd like to change, then keep coming back daily to make tweaks. Even if you aren't the best artist, you'll find this to be a great way to try out different ideas and create a prototype you can share with other people.
List out the features of your app
If you have a general idea of what your app will offer, the next step is to define the functionalities and features of your app. This will help you to offer potential users or investors more information about the app and give you a clearer idea of what benefits and uses it will offer to consumers.
While you might have a great concept in mind, you need to create a bullet point list of everything that your app will offer and how it will function. This will help you to answer key questions about your app and understand any issues you might have to overcome.
Even the most simple apps need a list of different features before you can go much further in the design process, this will ensure that nothing crucial is overlooked. As you begin to understand everything your app can offer, you'll then be able to think about the screen design and aesthetics.
Research your competition
While it can be so exciting to start designing and developing your new app, we always recommend researching other apps as part of prototyping. It's a great idea to find out who your nearest competitors are before going any further with your project.
You can then highlight key features you do and don't like in these apps and understand which features you want to add to your project. From there, you can draw out these ideas on paper or take screenshots of features you would like to use within a prototype.
Start by looking at apps that are closest to the one you are planning to develop, and then consider branching out and looking at other apps on the market for design and feature ideas. You'll be able to compare colours, designs, and ease of use across a broad selection of apps to find exactly what you want to offer to your users.
Use a simple prototyping tool
There are some great tools on offer today for people that feel they struggle with their design skills. Many of these tools are very inexpensive to download or even free in some cases. Have a look through the app store at the various options on offer, and you'll find tools like Adobe XD or Figma, where you can design and prototype your new app. If you have a few ideas on paper already, you'll enjoy playing around with these tools and bringing your app to life even more.
Showcase your prototype
Don't worry about perfection when creating a prototype, and instead, focus on showcasing the top features of your new app. Most users will be able to see past a prototype and try to understand your concept and ideas. When you showcase your app with passion and excitement, they'll be able to imagine what it will look like in the future once it's designed by a professional team of developers.
Receiving feedback
Regardless of how you think your prototype looks, it's important to showcase it to a select group of potential users. Feedback at this stage is critical in the app development process and can save you a fortune in the long run. Many entrepreneurs who skip the prototyping stage end up regretting it, as they find they overlook key features users would expect to see from an app. While you are likely to receive both good and bad feedback during this process, try to take the feedback constructively and remember that you don't have to take all of the suggestions on board.
If you don't want to receive feedback from close friends or colleagues, you can opt to use a market research company and create a focus group to understand your potential consumers better. From there, you can start to create your working prototype, where you can continue this research and development process. Each time you showcase your app to new users, you'll receive insights into their expectations and can make tweaks until you reach your final concept and start the development process.
Going forward
Just because you lack design skills, don't let that put you off the prototyping stage of app development. Any successful app developer will spend time researching and prototyping their product to understand what improvements could be made and to fix any issues with the design or concept of the app.
The more times you repeat this process and receive additional feedback, the better your final product will be. Even a simple pen and paper design can be a great start, so don't let your lack of design knowledge stop you from bringing your idea to life.
Our sister company BSPOKE Software has built many apps for Android and iOS, you can check out some of their past projects here. If you already have a prototype you would like developed or if your app is still just an idea contact the BSPOKE Software team who will be happy to explore how we can bring your app into reality.