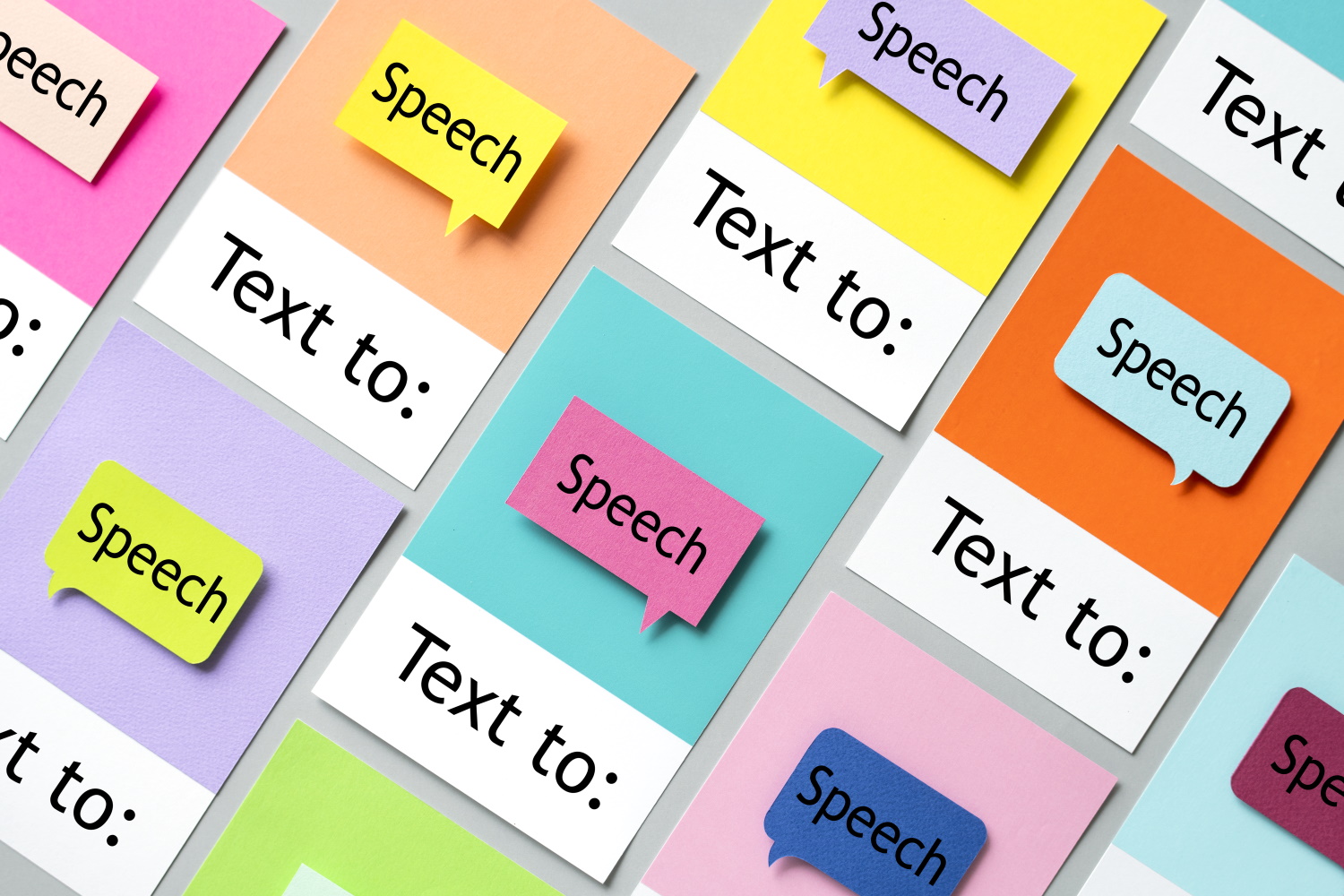 Many people find that they spend their whole day at work reading. This may include reading from a book, phone, or screen. Excessive screen time, or general reading, slowly takes a toll, whether on your eyes, mind, or motivation. Therefore, it's no surprise that many companies are looking to add text-to-speech technology to their website. Once added, this audibly reads sentences out loud. (It's also great for learning new words!)
So, with this in mind, In this article, we share everything you need to know about text-to-speech technology. And yes, this includes how it can benefit any business.
What is text-to-speech technology?
In its simplest form, text-to-speech technology involves reading a piece of text out loud. This assistive technology can read digital text aloud, sometimes referred to as read-aloud technology, too. You'll usually start by touching a button with your mouse or finger. Then, text-to-speech technology converts words into audio on your phone, tablet, or computer. It's a great piece of technology for kids and adults who struggle to read. Furthermore, it's equally as good for those who don't enjoy reading. Also, it can help to improve concentration and assist with editing text. Text-to-speech technology works on several different digital devices. For example, this can be used on Words and Page documents, and on most websites.
What are the benefits?
There are several benefits of text-to-speech technology. Therefore, it's no surprise as to why more and more companies are adding this accessible option to their custom business website. As mentioned previously, it's a convenient solution for those who struggle to read. Adding this option to a website increases accessibility – a feature for which many customers will be grateful. Customers and readers are likely to spend longer on your site. This includes consuming content and information on offer, perhaps even purchasing a product or two. Furthermore, it's a great way for younger children to learn how to pronounce new words. And it can be used as a learning tool on some websites to improve reading and writing skills.
More and more people are spending all day sitting on computers. Therefore, text-to-speech technology may prove to be useful when it comes to improving focus and concentration. Once added to your website, you'll find potential customers will read a much larger chunk of text and still absorb more of the facts than they would by skim reading it. It also helps to avoid eye strain from reading too much during the day, and it could assist with learning languages. Another great use of text-to-speech technology is when you are preparing a speech for work. For example, you can read a speech or presentation aloud to give an accurate self-audit.
What are the most common uses of text-to-speech technology?
If you are looking for a good example of text-to-speech technology, head to either Microsoft Word or the Pages app. This option should be available within this software, enabling you to witness the many benefits firsthand.
You'll find this is a great option for editors and writers who are looking to have a bit of a break after a long day of writing. Also, text-to-speech can be added to create a lasting impression on a website. For example, narration could be provided, increasing accessibility for all readers. This is not too difficult to implement but can prove useful and valuable for a larger audience. No doubt, this is something more businesses should begin to implement, with virtually no downsides on offer.
Some call centres are adding voice-to-text technology for their chatbots. Instead of having to wait a long time to speak with a member of your team, you can add this solution to assist your customer service team. Moreover, another example is Alexa or Siri, using AI text-to-speech technology to actively engage with users. Finally, it is also being used to help bring games to life in many exciting ways.
Could you benefit from adding text-to-speech technology to your website?
Now that you've learnt a little bit more about text-to-speech technology and its benefits, you might be wondering if you could benefit from this technology. Almost any business could do with adding this option to their website, but you'll particularly want to think about this if you are trying to appeal to a wider audience. When updating a website, you should always consider improving inclusivity. For instance, this could include readability, or in this case, text-to-speech. Accommodating to a wider audience is advised, improving brand reputation and satisfaction among customers.
The more people you can get to read the text on your website, the more likely you are to be able to share your product or service with the world. You will find that customers really appreciate that you've taken the time to add this solution to your site, and it will increase their interest in what you have to offer to the world. Our team will be here to make suggestions about how we can add this technology to your custom website so that you can experience all of the benefits we listed earlier.
Ready to add text-to-speech technology to your website?
Our team at BSPOKE Design will be able to review your current website and make suggestions about how this technology could be implemented on your site. Contact us today for more information and to get started with adding text-to-speech technology. It's an exciting development for the industry and one we only expect to see used more frequently in the upcoming years.