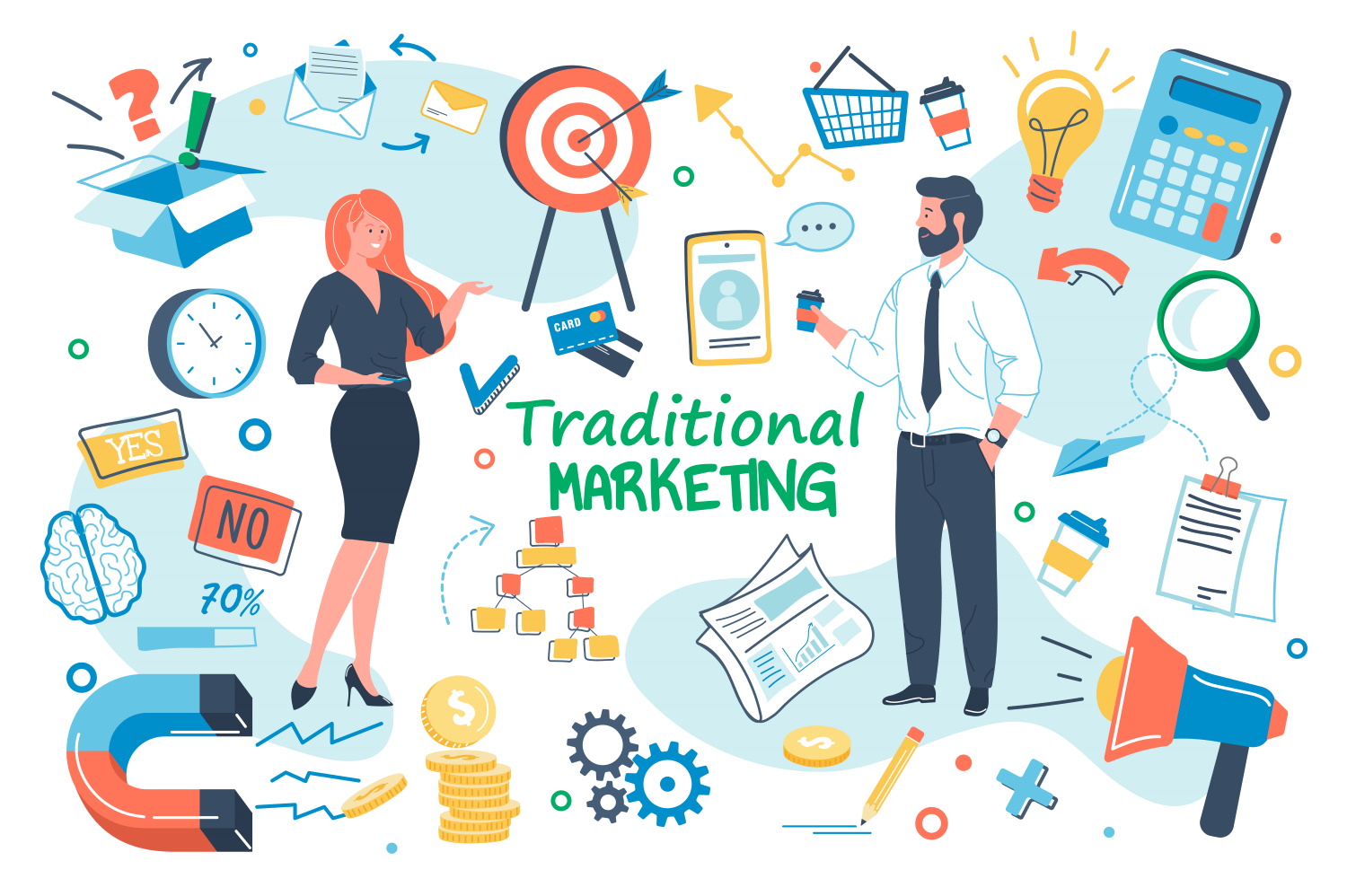 While digital marketing often receives the most attention online, businesses still need to think about using traditional marketing. Although some traditional marketing solutions aren't the most cost-effective option now, you'll find that they still boost interest in your business. So, with this in mind, the remainder of this post will discuss how traditional marketing can help your business and the activities it includes.
Traditional marketing – what is it?
When discussing traditional marketing, this encompasses almost any marketing activity that doesn't take place online. Television marketing is also traditionally added to this category. You'll find that companies have relied on this type of marketing for many years. While digital marketing is also critical for companies today, you still need to think about using certain elements of traditional marketing when launching a new business. It's a tried and tested way to attract new customers to your business. When you receive your post or paper each day, you likely see this type of advertising in action. The good news about traditional marketing is that it can reach a targeted local audience. The adverts also stay in place longer, as they are a physical item instead of a digital advert.
Traditional marketing vs digital marketing
One thing that companies need to consider now is using both digital and traditional marketing side by side. Digital marketing is crucial for any business today. You'll find that it's a great option for companies that are solely operating online. However, when it comes to physical businesses, you need to use both in order to attract a wider audience. When you are driving along looking for somewhere to eat, you will be easily influenced by traditional marketing. On the other hand, digital marketing is great for products you might buy online or search for in this way. We recommend allocating your budget between these two areas to ensure you are benefitting from both forms of marketing.
What are the different types of traditional marketing?
Traditional marketing comes in many different forms. You'll find that many of these methods are still quite outdated. By mixing and matching the right options for your industry, you'll find that you can attract a bigger audience for your brand this year.
Print marketing
One of the biggest categories of traditional marketing in Peterborough is print marketing. You'll find that this is seen in both newspapers and magazines, and it's a great way to target an audience with an interest in your niche. When you advertise your product or service in the right publication, you'll be likely to notice a huge influx in traffic to your site. You can use this to promote your brand in general or attract customers to your website. It can also offer new customers a welcome offer or discount code to increase their chances of purchasing from you. While print media is less commonly consumed now, you can use this alongside digital magazines and newspapers for the best results.
Broadcast
In the category of broadcast, we focus on radio and television advertisements. While podcasts are another popular option, this could technically fall under the category of digital marketing. The world's biggest companies use television adverts to reach millions of viewers with one single advertisement. Of course, this is not a cheap or quick option, as this requires plenty of pre-planning. For smaller businesses, you may want to consider your local radio station. You can record a short advert for very little money and attract a local audience who might just be looking for what you have to offer. Television marketing is particularly effective during huge events on TV. Brands fight for the top spots in the programming schedule in order to attract more business to their company.
Direct mail
While we find this option is less common today, you no doubt still receive some adverts via the mail. Companies need to be aware of their impact on the environment, as many individuals find this to be a huge waste of paper. We recommend using this option to only target very specific products for an area you are lacking in sales. You can either organise this direct mail to be sent via post or use it to deliver leaflets locally. Some companies use street promotional activities as well, which target customers who are walking right past a store or office. It's all about finding the solution that's most cost-effective for your business and trying out different ideas.
Telephone marketing
Certain industries still rely on telephone marketing in order to spread the word about their offerings. You'll find that many insurance companies and home renovation services have call centres with the aim of attracting more business. One thing to keep in mind when using this type of marketing is to avoid spam. So many people will simply hang up the phone, which makes for a very unpleasant time for everyone in your team.
In most situations, this is no longer the most cost-effective solution for companies. However, text marketing is something you may want to consider instead. It's a good way to contact previous customers and offer them a welcome back offer or discount code. Most people prefer to text than talk on the phone now, so you'll find you are much more likely to get a response. Once again, make sure you are taking the time to craft the perfect message. You don't want it to be deleted straight away or customers to ignore it due to the boring content you've sent.
In Summary
We highly recommend that you still use some traditional marketing techniques within your company. While digital marketing is essential for any company, these two fields work hand in hand to complement each other. You'll find that when you start using the right options for your industry, you'll soon attract more attention to your business.
Having a website is essential for your company whether you are taking the digital marketing route, traditional marketing route or both. For a business website, we always recommend custom website check out the benefits too. BSPOKE Design are here to assist you with revamping an existing website or creating a new one, so, contact us today.