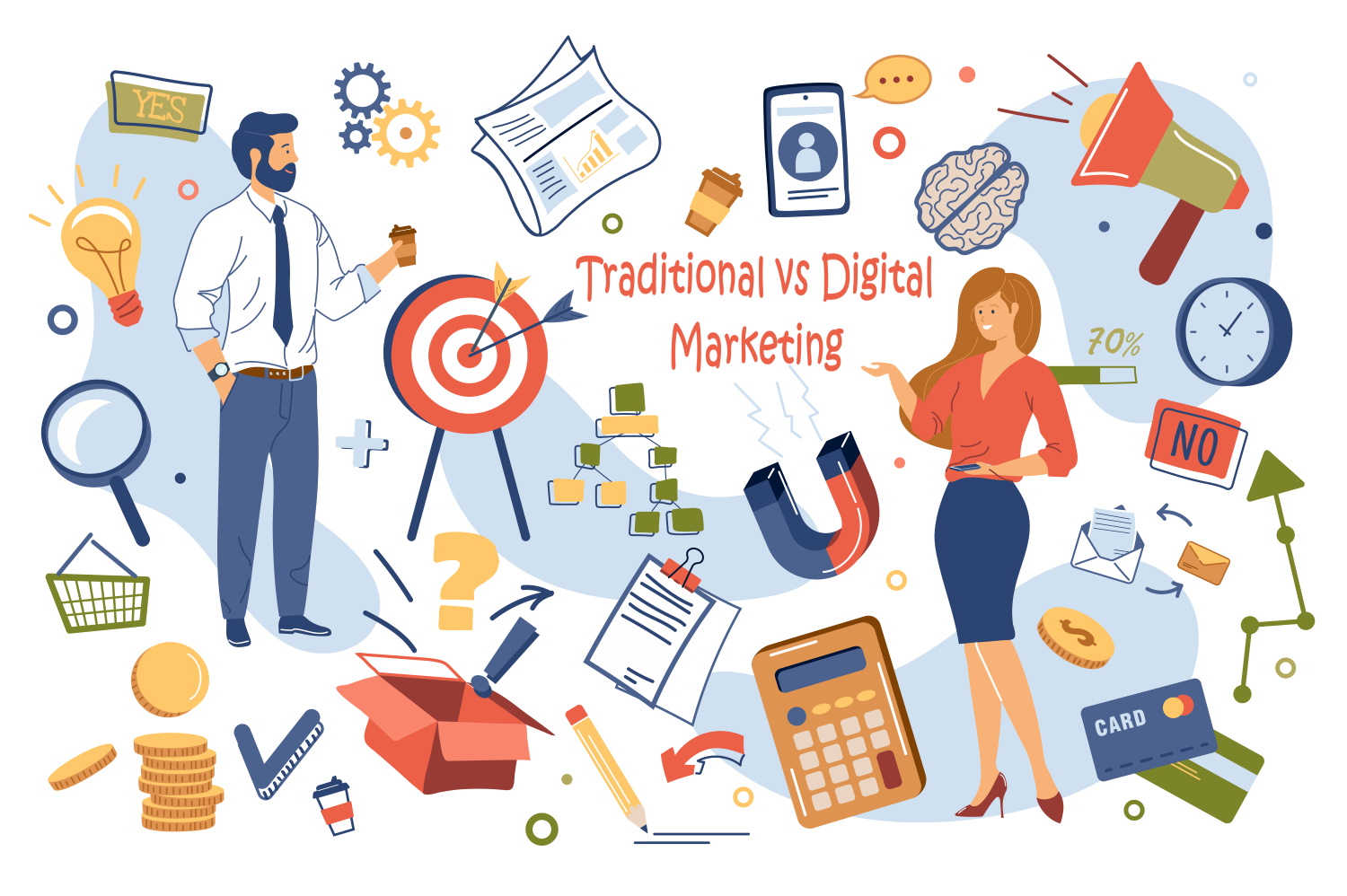 Digital marketing and traditional marketing often work hand in hand for most companies. However, when your budget and time are limited, you may need to focus on one area more than another. So, we're going to take a look at digital marketing vs traditional marketing so you can decide which is the best option for your business.
Advantages of traditional marketing
Traditional marketing has a few advantages over digital marketing, which is why it's still used by companies today. Firstly, it can make a huge impact on customers who are walking along the street or driving past your advert. These are often much more dramatic and striking than digital marketing. Digital marketing can sometimes be lost within the hundreds of items on social media. Traditional marketing is more permanent and long-lasting than digital marketing. Many people keep copies of magazines and newspapers far longer than they would a message they see online. It's a great way to remind people of your brand over and over again for many years to come.
Real Life
In general, when we see something in real life, it's likely to be more memorable than online content. Our brains are sometimes overwhelmed by what we see online, but real-life memories stick in our heads for longer. While these are the main advantages of using traditional marketing, there are certainly some drawbacks to consider. You'll find that this is a good option for certain events and products. However, it's not suitable for every company to use.
Drawbacks of traditional marketing
The top reason that companies are redirecting their spending now and choosing digital marketing instead is the cost. Traditional marketing can be incredibly costly. As a small business owner, you are unlikely to be in a place where you can fund these efforts. Most businesses can't afford a huge billboard in a city centre. The same goes for spreads in magazines, which can cost a fortune for a small company. Digital marketing allows you to stretch your budget much further while still seeing the same results from your efforts. While all companies should put money aside for marketing, you need to be able to get as much value as possible from your funds.
Hard to track results
Another reason we recommend moving away from traditional marketing is that these campaigns can be almost impossible to track. It's much harder to see the results from a physical advert, as opposed to a digital one. There are some fantastic tools for tracking digital marketing campaigns, which allow you to continue to make improvements in the future to your efforts. You'll also find that you can't have as much direct interaction with potential customers. You are very removed from your advert once it's out there in the world. Instead, digital marketing allows you to reply to comments and answer queries to secure business.
Advantages of digital marketing
As you can probably tell so far, digital marketing has many advantages for businesses. This is why we usually consider it to be the best option for business owners across the country. Digital marketing offers many different ways to interact with our audience. You'll find that you can easily see what your customers are thinking and what type of marketing they like to interact with. Digital marketing spreads across the whole of the internet, so you can use your website and social media accounts. You can directly target the exact customer you are looking for, which is much harder to do with traditional marketing. If you have a very niche product or age range you are marketing to, this will be a lot easier to achieve with digital marketing.
Easy to measure the results
One of the top reasons we love digital marketing now is that it's so easy to measure how successful your campaigns are. The tracking tools on social media sites and Google analytics allow you to see the conversion rates and the areas you could improve. You'll find that you can take the time to analyse each campaign and find areas where you can make changes for next time. As the internet is constantly changing, it's critical to keep this in mind to ensure you are successful when using digital marketing.
Things to keep in mind when using digital marketing
While we believe digital marketing is the best option for almost any type of company, there are certain pitfalls to avoid in this area. You'll want to make sure your ads don't appear to be spam to customers. So many of us find the amount of content online now overwhelming. You'll find that the more adverts someone sees, the less likely they are to react or remember any of them. Remember, ads online are much less permanent than real-life ones. You need to make sure you are putting in the effort to create adverts that will stick in your potential client's mind. With our help, we can put together fun and exciting campaigns for any business to help you stand out online.
Keep up-to-date
Another consideration is that digital marketing is continually evolving. Make sure you keep up to date with current trends online and in your industry. You'll find that the more you stay on top of this field, the more likely you will be to attract the right audience to your product. Trial and error is the key to success in anything in business. However, by employing our team to help with your marketing efforts, you'll be much more likely to get it right the first time around.
To finish
For the majority of businesses, we recommend focusing your time and resources on digital marketing now. While some elements of traditional marketing are good for business owners to use, digital marketing is the way forward. Of course, there's a lot to consider when starting out. We know it can be overwhelming to know where to begin, but we're here to help. Contact us today for more information and to discuss how we can help with your digital marketing. We'll be happy to work with businesses in any industry to secure more clients and expand their company in the future. A well as concentrating your efforts on digital marketing, you may also find that a custom website could also be advantageous for your company, check out the benefits here and it could cost less than you think.